Is eSports finally going mainstream?
Over the past two weeks, the gaming community has been in a rage over late-night host Jimmy Kimmel's comedy skit that makes fun of YouTube Gaming and mocks the concept of watching other people play video games as ridiculous. What Kimmel didn't expect was the virulent backlash from the gaming community, who, at best called him old, irrelevant and out of touch and at worst, wished painful death and disease on him. At the time of writing this, the original video has more than 130,000 dislikes on YouTube.
Since then, Kimmel recorded a short segment hugging it out with a few gamers, hopefully putting to rest the controversy and death threats. Still, the most interesting part of this story is not whether or not a 47-year-old TV host "gets" the idea of watching video games; it's the fact that esports, which is essentially the business of people watching other people play video games, is a vibrant and growing industry that's here to stay. Mainstream media in North America has been slow to understand the esports phenomenon, but with the emergence of large and profitable online gaming communities and massive esports events with viewership and prize pools rivaling other traditional sports, they're finally starting to pay attention.
Ten or fifteen years ago, it was much easier for mainstream media to scoff at esports. While professional gaming tournaments existed in 1990s, in the days of Counter-Strike, Quake and Warcraft, esports were just starting to gain significant traction in the early 2000's. Countries like South Korea were early adopters, with the government-backed Korean e-Sports Assocation (KeSPA) helping to establish titles like Blizzard's Starcraft into a mainstream cultural icon. Meanwhile, organizations like the Electronic Sports League (ESL) in Europe and Major League Gaming (MLG) in the United States were established, heralding the rise of esports around the world.
In the U.S., there was almost no coverage to be found of esports or professional gaming until Jonathan Wendel, also known as Fatal1ty, arrived on the scene, winning his first Quake 3: Arena tournament in 1999 and earning many titles across popular FPS games in the early 2000's. Fatal1ty was featured in a 2003 episode of MTV's True Life and later appeared on CBS 60 Minutes as well as other mainstream news publications such as Time, The New York Times and Forbes. He is often considered one of the most accomplished professional gamers of all time, but was certainly one of the earliest to gain prominence in the industry.
As esports continued to grow, the release of new PC games helped create larger audiences and more opportunities for professional gamers. The release of Starcraft II in 2010 was widely anticipated by fans and professionals alike who had played the original, especially in South Korea, where Korean Air actually collaborated with Blizzard to paint Jim Raynor on the side of two of their airliners (how's that for mainstream?)
In the years following its release, Starcraft II boasted one of the most robust professional gaming scenes in the industry, complete with international tournaments, $250,000 prize pools and popular personalities known worldwide - not just players, but also casters like the infamous Day[9]. Other games like the Counter Strike series and the Call of Duty series continued to release new titles, reinvigorating their esports following as well, but it was the MOBA genre that truly stole the esports crown, starting with the release of League of Legends in 2009 and Dota 2 in 2013.
League of Legends skyrocketed in popularity, claiming the title of most-played PC game in the U.S. and Europe by 2012, a fact notably reported by Forbes. Since then, LoL has continued to top the charts in terms of players counts and viewership. According to Riot, LoL had over 67 million players per month and a peak of over 7.5 million concurrent players, as of January 2014. The LoL World Championship in 2013 garnered 27 million unique viewers - that's more than the Masters, the NBA Finals and The World Series.
Dota 2 meanwhile has a smaller but still respectable player base. Still it's Dota's International that has turned heads in both the gaming world and mainstream media, starting with the first $1 million prize pool in 2011 and distributing an astounding $18 million prize pool at this year's event. Not only is that the largest prize pool in gaming history, but the largely crowd-funded pool also tops quite a few other traditional sports payouts, opening more eyes to the fact that esports is a large and lucrative industry.
Another key factor in bringing games into mainstream awareness has come with the rise of live streaming platforms, most notably Twitch.tv. Launched in 2011, Twitch has created a space that makes professional gamers and esports widely accessible to the masses - and the masses are taking advantage of that fact. In 2014, the New York Times charted the rise of Twitch, noting peak viewership numbers that rival those of prime-time cable networks. This came on the heels of the news that Amazon would be acquiring Twitch for an astounding $970 million, letting the world know that watching people play video games is indeed an industry to be watched.
Today, the esports industry is worth in excess of $194 million per year and is projected to hit $465 million in global revenue by 2017, according to Newzoo. Gaming no longer lurks in the shadows as an unknown form of entertainment - instead it's becoming hard to ignore. An article on the front page of the New York Times in August of 2014 highlighted TI4 and the rise of esports, mentioning other highlights in the gaming world, like Robert Morris University's pioneering scholarship program for professional gaming.
With a North American team claiming the latest Dota 2 championship at TI5, mainstream media in the U.S. and Canada have also been picking up on their hometown heroes. Evil Geniuses and especially SumaiL were featured in Forbes and Businessweek. CBC news, the largest broadcaster in Canada, also interviewed and ran a story on Aui_2000 after his win at TI.
Even ESPN finally seems to be jumping on the esports bandwagon, despite a bit of a rocky start. They tested the waters first with the International 2014, streaming the championships through ESPN3 and a short segment on ESPN2. Then John Skipper, the president of ESPN stated, regarding professional gaming: "It's not a sport - it's a competition. Chess is a competition. Checkers is a competition. Mostly, I'm interested in doing real sports." (Source) Apparently "real sports" fans were not amused either, as taking to Twitter to vent their rage.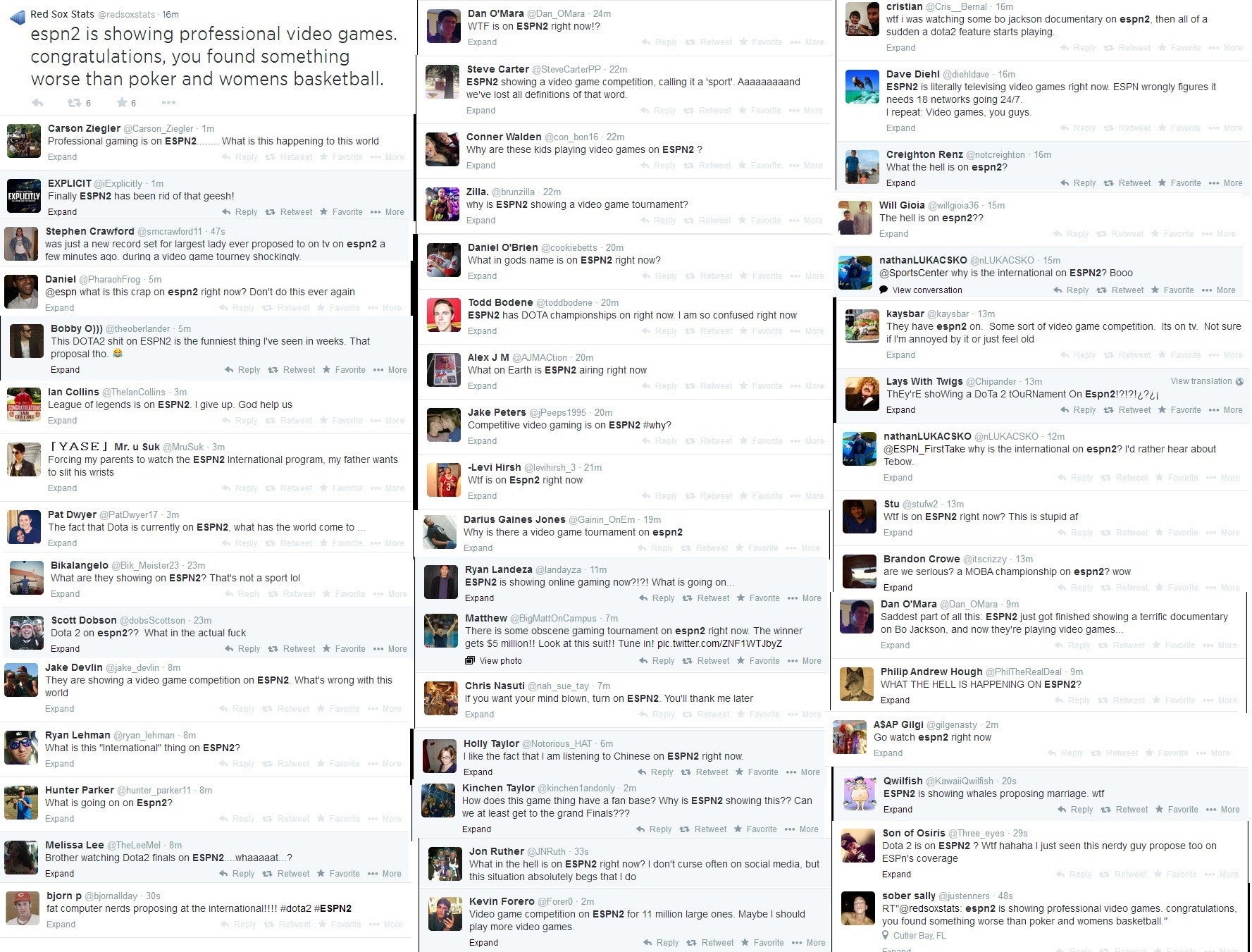 Regardless, ESPN was pleased enough with the viewership numbers to broadcast Dota 2 again for TI5, with coverage that was confused, but curious. For the first time in 2015, they also brought esports to their television broadcast, airing the finals of Blizzard's Heroes of the Dorm college tournament. Once again, the coverage elicited complaints from fans as well as one particularly virulent analyst, and it seemed like ESPN might keep to their sporadic coverage and focus on "real sports." That was until a week ago when they announced they were hiring an esports editor. Apparently, even the bastion of traditional sporting events is willing to give esports a try.
All in all, esports is set to to grow exponentially, and in many media outlets, stories about professional gaming are commonplace. Late adopters are being faced with the choice of either running to catch up, or being left in the dust. Of course there are still plenty of Jimmy Kimmels in the world who just "don't get it" when it comes to the business of watching video games and probably never will. Still, it's the gaming community's responsibility to continue to educate others and bring our passion to the world - hopefully in the future with more goodwill and fewer death wishes.
Skandranon
11 September 2015, 00:55
1849
0