Fresh blood: Pajkatt
We have recently announced our brand-new Dota 2 lineup, introducing three promising newcomers who will soon be competing under the
Natus Vincere G2A
tag. Because each of them remains an object of great interest to the community, we decided to prepare a brief outline of their careers so you can get to know them better. Today we will be talking about our new captain
Per Anders Olsson "
Pajkatt
" Lille and looking back at some of his most important career milestones.
Per began his journey into the world of professional DotA back in 2009 playing for
Xeo Divine
and
BFB
. Neither team achieved notable results, so the player was swift to leave them. It was not until May 2010 that he joined his first serious lineup,
Ducky's Dream Team
, with which he attended ESWC 2010. Afterwards, he played for
GGnet
alongside
Puppey
and
KuroKy
as well as
OK.Nirvana.int
together with
Clinton "
Fear
" Loomis and
Alexandru "
ComeWithMe
" Craciunescu, the latter being his last DotA All Stars team.
Pajkatt
gained his fame after
The International 2011
, where he secured 8th place together with
Online Kingdom
. Participating in the first eSports competition and taking a shot at winning its huge prize pool was already a great achievement, especially since the Swedish player was still unknown at that time. Moreover, he was able to score the highest GPM among the participating players.
Online Kingdom's lineup at The International 2011:
Clinton "Fear" Loomis
Dominik "Lacoste" Stipic
Alexandru "ComeWithMe" Craciunescu
Per Anders Olsson "Pajkatt" Lille
Theeban "1437" Siva
Next stage in our player's career was his stint at
Evil Geniuses
, where he stayed for around three months playing a fifth position support. Subsequently, he joined the
Team eXperience -
the team which was formed by the efforts of Swedish players and eventually picked up by
Counter Logic Gaming -
with which he was able to secure a third place finish at
StarLadder StarSeries Season 1
and a silver medal at
The Defense Season 2
.
The International 2012
saw the team appear fairly lacklustre, yet Pajkatt's performance allowed him to stand out from the rest of his teammates and receive the offer to relocate to China where he would join
LGD International
.
Per would spent the whole year bootcamping alongside
God
,
1437
,
Brax
and
Misery
. The guys immediately kicked things off on the right foot, but summer marked a slip-up in their performance. They failed to get back in shape after an extended hiatus and lost their motivation entirely. Let's hear what happened from the player himself:
Excerpt from ongamers.com's interview with Pajkatt:
"What we did in China had never been done before, at least not to my knowledge, and so, being the first ones to try something like this, we were bound to make mistakes. I do believe our trip would've been a whole lot easier had it not been for the break in between the G-league finals as well as if there was some easier way of communicating with the Chinese, there were a lot of misunderstandings, but there is no knowing for sure. Nonetheless I don't feel like it was a mistake to go to China, we didn't achieve a whole lot of results, but instead, we all gained a lot of experience, both Dota related and non-Dota related."
After some time, Pajkatt's competitive spirit brought him into the
Team Dog, which was signed by
Mouz after several convincing wins at the minor league tournaments, but the team disbanded right after the unfortunate finish at The International. The exact same thing happened to the player's previous team, Team Dog, which had performed consistently until August, but was unable to show decent results at the largest tournament of the year.
Afterwards, Per transferred to
Team Tinker
. The lineup comprised masterful
Tinker
players and was adored by lots of Dota 2 fans, but was still unable to achieve top results.
Most of you must remember the dark days of
Alliance, when the Swedes parted with
s4 and
EGM. It was approximately at that time that Pajkatt joined the ranks of the team as a second position player. Although together they made it through the StarLadder StarSeries Season 12 qualifier and placed second at joinDOTA Masters XV and joinDOTA MLG Pro League Season 2, one can hardly consider the player's time in the team a success. The roster failed to qualify for Dota 2 Asia Championships 2015 and The International 2015 and only claimed 5-6th place in Bucharest.
After Alliance's reunion, Pajkatt signed with
4 Clover & Lepricon where he performed under the leadership of
Saksa until 2016. Afterwards, he joined
Mamas Boys which later got disbanded and then took the coach's position at
Digital Chaos. He helped the players who had been kicked to the curb just before the end of The Spring Shuffle to attain second place at The International 2016.
Reso1ution, for one, admitted that he has learnt a lot from Pajkatt and hopes that the latter will conquer as many gold medals as possible together with Natus Vincere.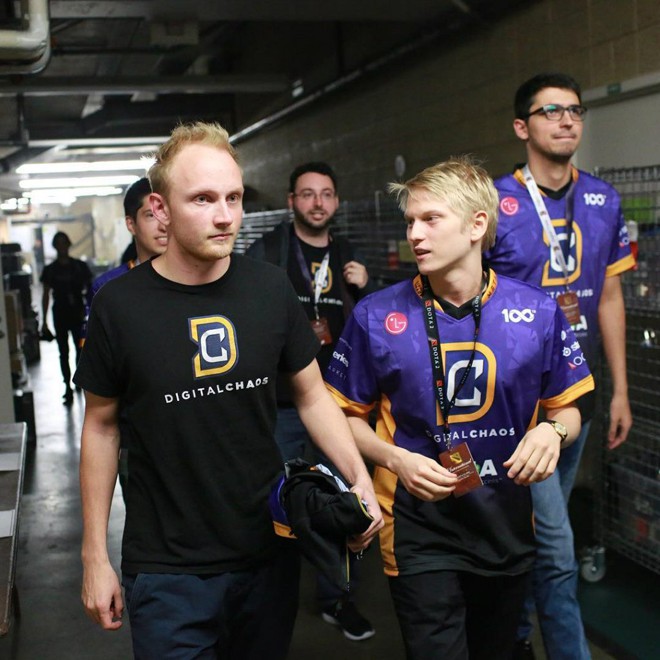 Pajkatt has even started his own unofficial club, which originates from the match between
Online Kingdom and
Moscow 5 at The International 2011. In order to get into the club you have to:
Play a carry hero;
Have six items and 10k gold;
Lose a game.
The LGD International lineup participated in G-League, the event with the funniest team presentation videos.
Besides, we highly recommend that you watch the interview with Yevhen Zolotarov, where Na`Vi's eSports director stated that Per is by no means bothered by the language barrier.
One way or another, Pajkatt filled the captain's position not only because of his personal traits, but also because of his leadership qualities and extensive experience. He was a captain/carry player in each team he was part of, meaning that this role is where his full arsenal of skills comes into play. The coach's experience gained with Digital Chaos is another thing bound to show positive results. Not every team in which Pajkatt played was successful, and the player still has a great potential waiting to be unleashed.
Natus Vincere is glad to help him in doing that! Welcome, Per!
mJay
4 January 2017, 13:14
29031
0