Interview with Na`Vi.HarisPilton
In the interview with Russian sports web portal championat.com,
Yevhen "HarisPilton" Zolotarov,
Natus Vincere G2A СЕО, talked about the new Dota 2 roster, sponsors of eSports clubs, his career in Na`Vi.G2A and much more. He also mentioned the reasons of recent changes in the top management and outlined the further development of Na`Vi.
— Visa, Adidas, Audi. Recent sponsor contracts are spectacular. But, frankly speaking, do you believe such large investors will stay in the industry for a long time? Are they capable of changing the market?
— I am sure, they're here for a long time. And these aren't the last sensational contracts. eSports audience is growing. So current sponsorship is the investment in future, since all these people are consumers of commodities. The upper age has increased too. The core of the audience was 12-20 years old. Now it is 16-24 years old. The upper age reaches up to 35-40 years. There are eSports enthusiasts and fans at 30+, they're solvent enough to buy Audi and have Visa card.
— What's the point in sponsorship of Aviasales (Jetradar)? How profitable it is for both parties?
— Digital package is rather standard. We're paid and provide the promotional services of the product to our audience. This includes branding, special promo campaigns and events with our players.
— The liabilities under the contracts are pretty tough in any sport. Does the management have to run after the players and persuade them to do something?
— We have the liabilities to sponsors and the players have liabilities to us. Nevertheless, sometimes we have to run after and persuade. On the other hand, the situation is better now, than it used to be. Much depends on a particular player and discipline. For example, Dota players are less open to media activities and it's harder for them.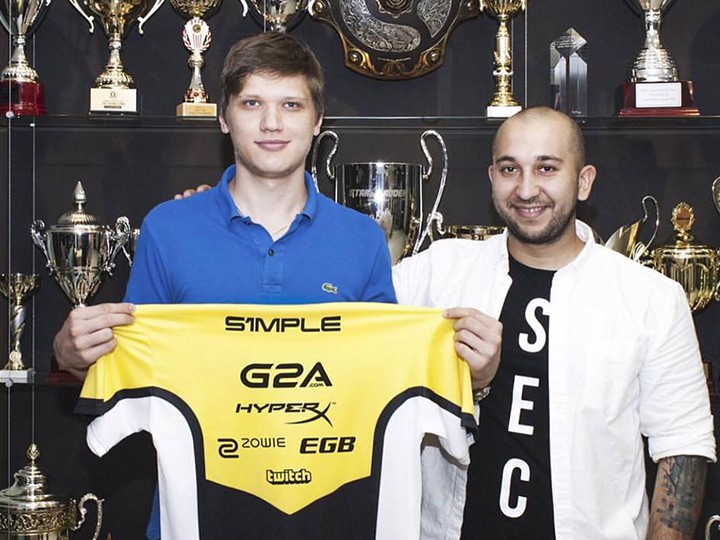 With Oleksandr "simple" Kostyliev
Counter-Strike team does everything consistently and practically with pleasure, since they understand they need it. Any activity is not only the development of Na`Vi brand, but also the development of their own brands. The more a player streams, attends events, the bigger his incomes are and the more solid their contract might be. Transfer price also grows larger.
We do face troubles, but they are fewer now. Additionally, the quality of content depends on us. The better the quality is, the more eager are players to participate in its creation.
— What eSports can borrow from sports right now?
— The main difference between the industries is infrastructure. Football has medical centers. I think eSports organizations based on football clubs use the services of these centers. We're close to that. That is to say, medical services and work with psychologists are the main points. A sound mind in a sound body. The better your physical shape is the better your brain works. So you need to do physical training and eat healthy food. That's what we explain to the players.
— Should eSports be more open from the financial point of view?
— We need more time now. There's still a great difference betweed sponsor contracts of the teams from different regions. The purchasing power of the Americans is higher, so the local clubs have bigger contracts. Nevertheless, this difference is being eliminated gradually. eSports have no boundaries. I hope that financial reports will be made public, thus enabling to introduce financial fair play so that nobody can tear the market apart and the incomes don't surpass the costs. We'll eventually achieve it, but in 5 years approximately.
— Is a special regulator body like WESA (World eSports Association) necessary for that?
— It is definitely necessary. This is what the association is made for. eSports have certain specific features. Let's take a look at FIFA. Why is it effective? Because no one owns football. Meanwhile, there are owners of intellectual property in every eSports title. This makes the process a bit harder. I think there will be as many federations as there are disciplines.
— In an interview with Rambler, Anton Cherepennikov said that the majority of eSports audience are the guys between 20 and 30. Who is Na`Vi fan?
— This is an individual who likes black and yellow, who cheers for our players, likes our content and buys our merch.
MLG Major
— Why there's no established cheering culture in eSports?
— Let's take football: it is offline. People meet, attend matches, see each other, communicate with each other and hate the fans of other clubs.
— Perhaps, to change it, players need to communicate with the fans in real life more often. I saw the team signing autographs on the very next day after losing at ELEAGUE. However, people often forget: they promise. They lose and then they don't come.
— I tell you more: they went to the signing session on the very day they lost in the quarterfinal and were very happy [to meet the fans]. Communication with the audience is what we discuss with them all the time. They play for the fans. That's why, regardless of their mood, they must spend some time with the fans, sign autographs, take photos and answer the questions. This is the interaction that is very important and can increase the fan base.
There are situations in traditional sports when players leave press conferences or don't stay for the autograph session. This is common situation. It doesn't really matter if it is sports or eSports. It all depends on a person.
— The most popular question to the players is about their parents' attidude towards playing. When will eSports get rid of old stereotypes and will be regarded as a hobby of progressive youth?
— When it all began, there was much scepticism about it. Are you playing games? Go work or study at school, university. Parents and acquaintances suggested it. As per moment the parents of eSports players (especially of successful ones) are very happy about the hobby of their children. The ordinary people have less questions, since they've heard something about it. People who attended eSports tournaments at least once in their lives are excited. The sponsorship of the big brands is also beneficial. They attract additional attention to our industry, bringing it from the underground.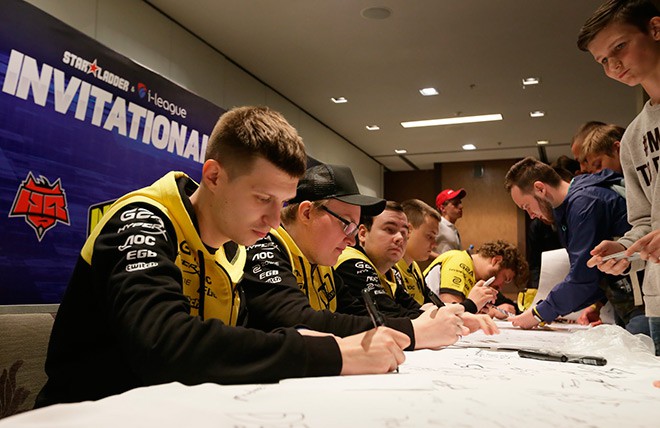 CS:GO line-up signs autograph
— eSports opponents tend to blame the media for promotion of eSports. They say: "Why do you advertise it? The children would opt to play computer games all day long trying to model their idols". What is your answer to these people?
— That's the same thing as in sports: not everyone gets to the top. There's nothing bad about it. In any case you obtain your skills, experience, learn how to work in a team, compromise and control your emotions. When you spend 6-8 hours trying to achieve your goal, you get more disciplined. So there's nothing bad if this time is spent, even if you don't become a professional eSportsman.
For example, I played Counter-Strike for 7 years, then I was building career in business for 8 years. My hobby brought me to Na`Vi. As per moment I am a very happy man, as I do what makes me happy. Nonetheless, I haven't become an eSportsman.
— You announced changes in the management of organization on 25 January. Alexander Kohanovsky resigned. Some people talked about new era. Some mentioned that the main ideologist of Na`Vi left. What will the reign of Yevhen Zolotarev be like? What will change?

— Sasha is the "driver". He's very good in startups. He believes in his ideas very much. In fact the success of Natus Vincere is the result of his work. We're one of the most popular eSports clubs in the world in terms of fan base volume and prize money won. He made a lot. Nevertheless, now the organization is in the stage of development when you need to pay more attention to details: improve operational work, work out the methodology with the rosters, train players. This requires description and work. Since that's not what he's interested in, it's not his strong suit.

I am more about it. I used to work with sponsors, in HR department, in sports department of Na`Vi. This enables me to have a broad view on the organization's activities. I strongly believe that I'll be able to introduce a more systematic approach into the business and we'll win new cups and partners.

— Recently, Na`Vi renewed its Dota 2 roster. Now you have three Europeans on the team. Are they different from the previous players?

— They're very different. They're more professional. The training process has changed significantly. We analyse our rivals before the game all the time. We did it before, but not always: sometimes they weren't in mood, didn't have time or some people were late. We don't have this anymore. We have discipline problems no more. Even after the victories we gather together and discuss the mistakes.

— In football the players often speak of the traditions, club philosophy and the way of thinking. People do change with time, and not only due to the coaches. Do the Born to Win influence the players and teach them Na`Vi philosophy?

— I want to believe that we do. Not only do we hire people, give them uniform and money, but we also try to work with them in terms of explaining our values and expectations. We have regular communication sessions with the management and with each player individually. We're planning to engage psychologists. We haven't found the apropriate candidates yet, I mean, people who have both the notion of psychology and the basic understanding of gaming, of what people do.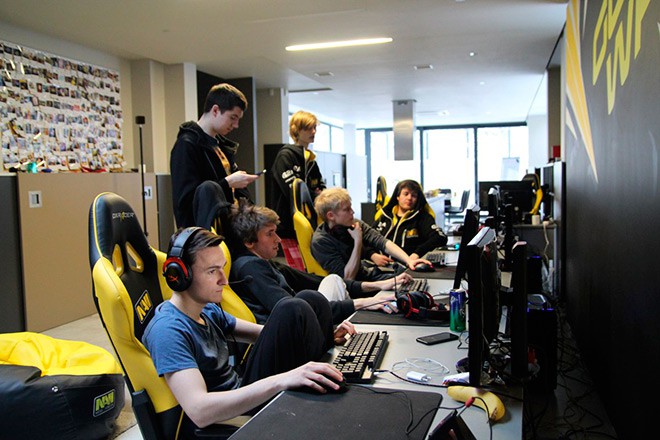 New Dota 2 roster
— Who are the "locker room" leaders in Dota 2 and CS:GO rosters?
— In CS team, Evgeniy "ugin" Erofeev is the leader. He's both the mentor and the tutor. He undertakes the leader's functions beyond the game. Our captain Denis "seized" Kostin recently became a leader. He tries to be one beyond the game too, but he still needs time to adapt. He's responsible for all the tactics and strategies in game.
As concerns Dota 2 roster, the leadership beyond the game is divided between Igor "Caff" Sidorenko and new captain Per Anders Olsson "Pajkatt" Lille. This role is new to him, but he has the makings for it. Sometimes he talks individually to a player after the match analysis or unsuccessful ingame moments. I hope he'll succeed.
— Is an eSports club profitable?
— In terms of income it isn't super profitable yet. In 2016 Na`Vi had income, but it wasn't big. The incomes and the costs are approximately the same. Speaking of most clubs, I'm pretty sure they're unprofitable. You don't have to have many fingers to count the profitable organizations.
Nonetheless, the sponsor contracts are increasing in quantity and amounts. The salaries of players are growing. What's most important, the turnover is growing. The price of business increases too. Investments poured into business imply that it is profitable.
— How much do eSportsmen earn per month?
— Perhaps, everyone is interested in this question. It depends on the title. There's mobile eSport - Vainglory. The salaries there are about 500+ USD. In League of Legends part of salary is paid by the organizations, while the other part is paid by Riot Games. The salaries in Dota 2 aren't big: from 1 000 to 5-6 000 USD, but the prize pools are very large there. There are 2-3 majors with 3-4 million prize pools. There's The International, with the prize pool of over 20 million dollars.
Speaking of Counter-Strike, the major tournament prize pools are about one million. There are 2 tournaments with 1 million prize pool. The average prize pool of other CS competitions is 250 thousands and more. Respectively, the salaries of CS players are higher than those of Dota 2 players. The bottom salary is 1 000-1 500 USD. Some are up to 10 000 and more (a few American rosters have such salaries). The players gain 80-100% of the prize pool depending on the organization.
— Football clubs are signing the eSports teams. In your opinion, will we see the encounter of Na`Vi and Fnatic in the future or will they be "swallowed" by Real, Barcelona or Dynamo Kyiv?
— I don't believe in Dynamo Kyiv, their management is too old school. As concerns Real and Barcelona, I think we'll see some mix. Only the most systematic eSports and wisest organizations will survive. Competing with big sports is hard: they have developed infrastructure. Their promotion is very good. Some of them have been working on it for one hundred years. Certainly, they have no expertise in eSports, but it's not hard to get one. They'll make their mistakes [and learn from them].
For example, Schalke 04 signed League of Legends roster. they began in LCS, got kicked and now play the League of Contenders. They'll make many mistakes, but eventually they'll be able to compete with other eSports organization due to the opportunities the club provides. Meanwhile, eSports clubs that are incapable of growing big enough to have their own infrastructure will vanish or be taken over.
— Are eSports overestimated?
— No, they aren't overestimated. Perhaps only in terms of salaries and sponsor contracts. And it is due to wild dynamics. Everything grows here practically twice as much every year. People invest in perspective. I think this is phenomenon. This is sport that doesn't require your physical presence to become eSportsman everywhere. You can become one in your bedroom or in your cabinet. The audience is constantly growing, there are no boundaries in the teams. People of different nationalities and religions play together. And it is great.
Eloveana
7 February 2017, 11:22
340
0